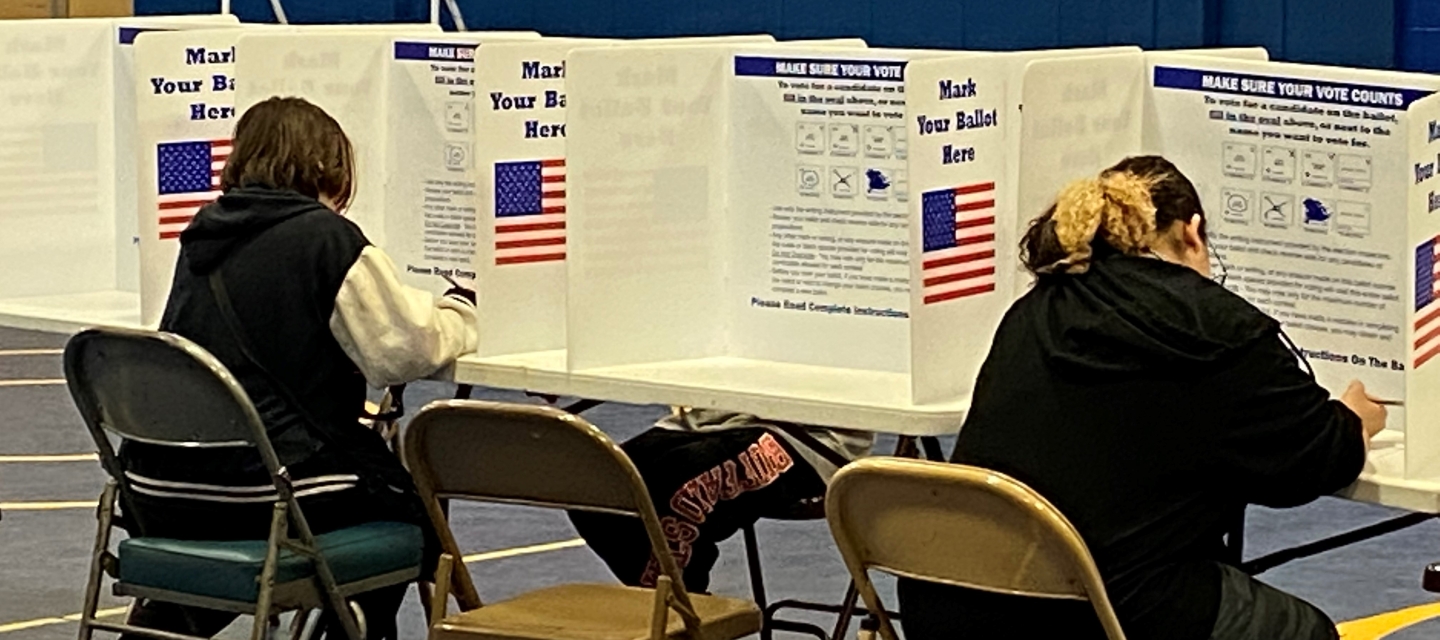 Bengals Vote!
Welcome to the Bengals Vote Webpage!
This website is designed to assist SUNY Buffalo State students, faculty, staff, and alumni register to vote, finding their polling location, and serve as a resource for voter engagement.
FAQ
Visit the Voter Registration FAQ page for answers to Frequently Asked Questions
More Questions?
Visit us at Dr. Katherine S. Conway-Turner Office of Civic and Community Engagement, 120 South Wing
Email us: cce@buffalostate.edu
Call us: 716-878-3919
2023 – 2024 Voter Engagement Event and Programs
The Dr. Katherine S. Conway-Turner Office of Civic and Community Engagement brings to you a semester of voter engagement and voter education programming. Starting Tuesday, September 19, 2023, Citizenship Day and Voter Registration Day are being recognized.

Below is a list of events, but please visit the CCE Bengal Vote page for a full semester line-up with additional information on the Bengals Vote page. We encourage all to RSVP to help us be prepared for the following events:

 

Citizenship Day Button-Making Service Project

All are welcome to stop by the E.H. Butler Library lobby on Monday, September 18 during Bengal Pause (12:15 PM – 1:30 PM) to celebrate Citizenship Day and make a button for a refugee and new citizen. We want to celebrate their achievements in becoming an American citizen in a fun way.

 

The League of Women Voters will be on campus Tuesday, September 19, and Tuesday, October 3, from 11:00 AM to 1:00 PM tabling in the Butler Library West lobby. The LWV is a nonpartisan, grassroots organization working to protect and expand voting rights and ensure that everyone is represented in our democracy. LWV empowers voters and defends democracy through advocacy, education, and litigation at the local, state, and national levels. The organization is looking for volunteers and can answer any questions you may have.

 

To commemorate Constitution Day, on Tuesday September 19, 2023, between 10:00 am - 3:00 pm on Zoom, we invite students across the SUNY and the Massachusetts Public Higher Ed systems to Zoom-meet with elected officials and civic leaders to learn how to advocate for issues they care about.  With the next presidential election year on the horizon, our vote and our voices count!

This is a virtual event with four sessions – come to whichever one your schedule allows. Same Zoom link for all sessions. Registration is required.

 

Democracy SPS Movie Night – Fight for Democracy

SPS and the The Dr. Katherine S. Conway-Turner Office of Civic and Community Engagement (CCE) will be co-hosting a movie night on Tuesday, September 26 from 6:00 PM – 8:30 PM in  Caudell Hall 123. The featured movie will be All In: The Fight for Democracy

 

Voter Education Week at Buffalo State, along with the Civic and Community Engagement Office, will be hosting a panel discussion with community leader voices on and off campus. It will take place on Thursday, October 5, 2023, during Bengal Pause (12:15 PM – 1:30 PM) in Caudell Hall 127.  

Collaboration with Intermediate Video Productions (Com 329)
Hear from diverse voices from our community
Ask questions about pressing social justice issues
Light refreshments will be served

 

Celebrating Voter Education Day

The CCE will be tabling on Thursday, October 26, 2023, from 11:00 AM to 1:00 PM in the Butler Library lobby.

When you vote early, you ensure that busy schedules, Election Day lines, or last-minute problems won't stop you from sharing your voice! Stop by the table to register to vote or share why you vote early to encourage others to vote.

 

Come! Let's walk together and vote!

The Katherine S. Conway-Turner Office of Civic and Community Engagement (CCE), the Political Science & Public Administration Department (PSPA), and the Student Social Work Organization would like to invite you to "Walk to the Polls" on Tuesday, November 7, 2023. 

You can choose from four departure times leaving from the Student Union lower lobby outside the bookstore and make the accompanied, five-minute walk over to the Asarese-Matters Community Center, 50 Rees Street, Buffalo, NY 14213 to vote. Rain or shine, come with comfortable shoes and an umbrella if needed.

Use this form to RSVP and select your preferred departure time, best by 9 AM on Tuesday, November 7, 2023, but walk-ups are welcome

Departure Times:

9:30 AM
12:30 PM
1:00 PM
4:30 PM

*Departures are from the Student Union lower lobby across from the Campus Bookstore.

Contact the Civic and Community Engagement Office, (716) 878-3919, with questions