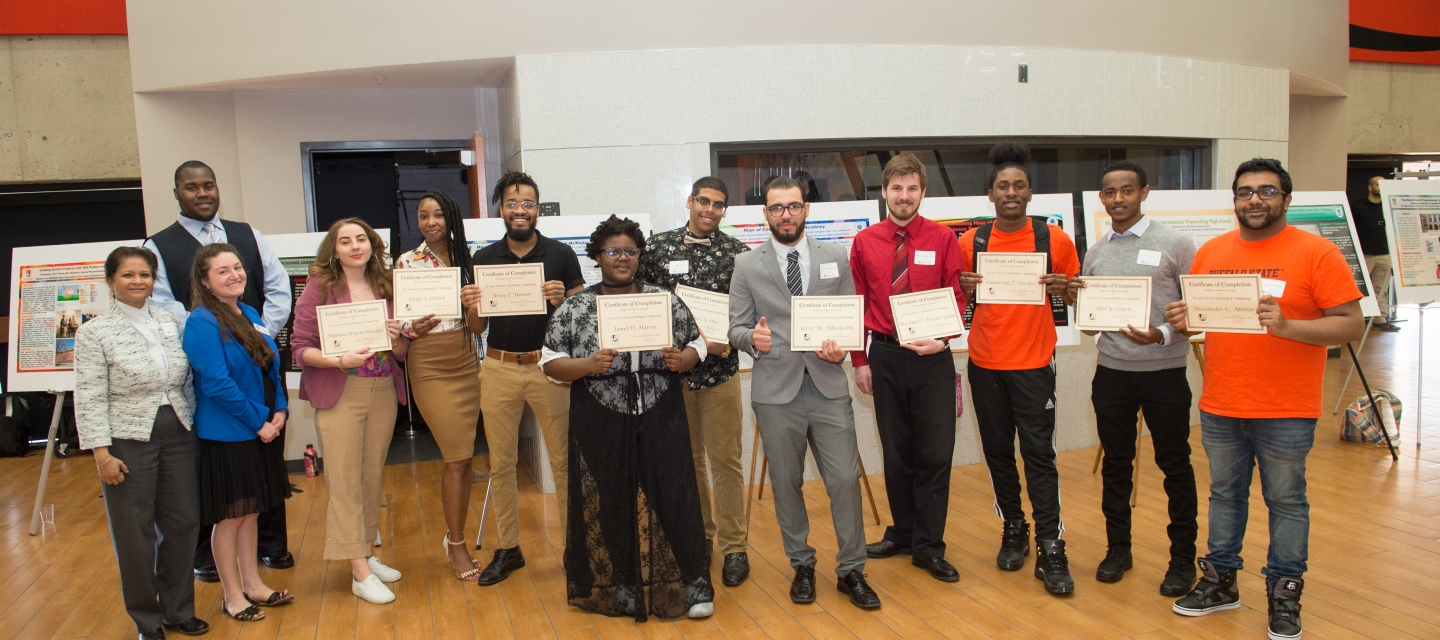 Faculty who regularly teach service-learning courses are asked to request a service-learning course designation so that the class is properly tagged in Banner. This designation appears in all registration materials.
Why Apply for the Service-Learning Course Designation?
1
Students can easily identify service-learning courses in Banner.
2
The CCE can celebrate and recognize the students, faculty, and community partners involved.
3
The CCE can provide support and advocate for resources to ensure success.
Request Service-Learning Course Designation
Service-Learning Course Instructors
Abraham, Liza
FTT 455 - Issues in Merchandising
Acar, Selcuk
CRS 303 - Creative Leadership through Effective Facilitation
Andrus, Lucy
ATS 325 - Art for Children with Special Learning Needs
Aviles, Christopher
SWK 301 - Poverty and Public Policy
Bae-Dimitriadis, Michelle
AED 398 - ART, Society and New Media Technologies for Art Education
Baldwin, Susan
HEW 412 - Health and Wellness Programs
Banerjee, Sarbani
CIS 388 – Service Learning in Computing
Bontempo, Barbara
ENG 260 - Children's Literature
Breidenstein, Dana
EDU 211 - Introduction to Literacy
Cabra, John
CRS 610 - Advanced Group Problem Solving
CRS 619 - Organizational Creativity and Innovation
CRS 670 - Foundations in Teaching and Training Creativity
EDL 683 - Advanced Group Problem Solving
Colaizzo-Anas, Tina
NFS 405 - Principles of Nutritional Education
Conides, Cynthia
MST 640 - Museum Administration
MST 642 - Museum Planning
MST 660 - Museum & Society
Cummings, Mary C.
EDU 211 - Introduction to Literacy
EDU 310 - Teaching Social Studies in the Elementary School
EDU 311 - The Teaching of Reading & Other Language Arts in the Elementary School
Dahl, Justin
FAR 189 - Public Art / Mural Painting
Davis, Orin
CRS 201 - Foundations of Leadership
del Prado Hill, Pixita
EDU 311 - The Teaching of Reading & Other Language Arts in the Elementary School
EDU 416 - Teaching Literacy in Middle & Secondary Schools
EDU 511 - Methods of Teaching English Language Arts
EDU 609 - Research & Practice in Adolescent Literature
EDU 654 - Theory Research & Practice in Social Studies Instruction
DeNysschen, Carol
NFS 405 - Principles of Nutritional Education
Dolph, Eric
IDE 251 - Interior Design II
IDE 351 - Interior Design IV
Donhauser, Justin
PHI 102 - Introduction to Ethics
Doody, Kathy
EXE 510 - Cognition and Emergent Literacy in Young Children with Disabilities
EXE 530 - Parent/Family Involvement in Special Education Programs
EXE 612 - Managing the Behavior of Young Children with Disabilities
EXE 650 - Assessment of Infants and Preschoolers with a Disability
EXE 652 - Intervention in Early Childhood Special Education
Elias, Crystal
EDU 310 - Teaching Social Studies in the Elementary School
Emo, Ann
THA 189 - First Year Seminar
THA 234 - Introduction to Theater Design
THA 335 - Costume Design
Fitzpatrick, Jessica
CAS 302 - Global Child Advocacy Issues
SWK 301 - Poverty and Public Policy
Franczyk, Annemarie
COM 405 - Online Newsroom
Frey, Selenid
EDU 211 - Introduction to Literacy
Franczyk, AnneMarie
COM 408 - Online Newsroom
Fulcher, Katrina
SLP 424 - Speech Language Pathology Programs in Schools
George, Patricia
EDU 211 - Introduction to Literacy
Golde, Kathleen
DAN 201 - Teaching Creative Movement for Children
Gradwell, Jill
MST 632 - Teaching with Historic Places
SSE 632 - Teaching with Historic Places
Guarino, Joy
DAN 201 - Teaching Creative Movement for Children
DAN 224 - Dance Appreciation
DAN 301 - Kinesthetic Learning Methods and Practices
DAN 324 - Globalization of Dance
DAN 401 - Teaching Dance
THA 418 - Creative Dramatics
Gupta, Uma
BUS 366 - Management Information Systems
Habes, Erin
FTT 110 - Fundamentals of the Fashion Industry
Harris, Judith
EXE 100 - Nature and Needs of Individuals with Special Needs
Harris, Robin
SCI 445 - Literacy for Teaching Science
SCI 545 - Literacy for Teaching Science
SED 200 - Field Experience in Secondary Education
Hashey, Andrew
EXE 321 - Remediating and Adapting Literacy Instruction for Students with an at Risk for Disabilities
EXE 323 - Field Placement in Literacy Methods for Children with and without Disabilities
Henry, Julie
EDU 211 - Introduction to Literacy
Hilarski, Carolyn
SWK 424 - Interventive Methods II
Hubbard, Katharine
COM 418 - Campaigns in Public Relations & Advertising
Huck, Adam
EDU 310 - Teaching Social Studies in the Elementary School
Hunter, Jevon
BSC 101 - Foundations of Inquiry
EDU 606 - Literacy Instruction for Linguistically Diverse Students
EDU 609 - Literacy Instruction in the Upper Grades
Kahn, Drew
THA 470 - Theater Ensemble
Knowles, Meg
COM 433 - Advanced Documentary Production
Krieg, Eric
SOC 250 - Sociology of Buffalo
Kuttesch, Elizabeth
EDU 416 - Teaching Literacy in Middle & Secondary Schools
Lai, Christine
BUS 320 - Principles of Marketing
Liao, Ann
SPC 307 - Group Communication
Lindner, Jonathan
HEW 412 - Health & Wellness Programs
Maguire, Susan
ANT 308 - Archaeological Method
Masiulionis, MaryJane
SPC 307 - Group Communication
Masters, Candace
AED 302 - Functions & Practice in Art Education
Mathien, Lorena
BUS 362 - Business Project Management
BUS 404 - Marketing Research
McFarland, S. Diane
BUS 327 - Advertising Concepts
BUS 404 - Marketing Research
McLeish, Wendy
EDU 211 - Introduction to Literacy
EDU 329 - Integrated Thematic Instruction for Young Children
McMillen, Susan
EDU 416 - Teaching Literacy in Middle & Secondary Schools
Merberg, Eileen
CRS 201 - Foundations of Leadership
Mernitz, Ken
HIS 330 - US Environmental History
HIS 332 - Technology & US History
Miletich, Marko
MCL 370 - Introduction to Community Interpreting and Translation
Miller, Berg
SWK 220 - Introduction to Social Work
Murray, Marie
NFS 447 - Nutrition Care Community
Niman, Michael
COM 389 - Alternative Media
Norvilitis, Jill
PSY 381 - Psychology of Culture
Nyachae, Tiffany
EDU 211 - Introduction to Literacy
Oh, KeunYoung
FTT 150 - Introduction to Fashion Merchandising
Palumbo, Kathleen
EXE 245 - Community Service with Individuals with Special Needs
Pates, Jessica
EXE 245 - Community Service with Individuals with Special Needs
Reichenberg, Jennifer
EDU 211 - Introduction to Literacy
Reid, Howard
PSY 304 - Learning: Theory and Research
Sacks, Harriet
EDU 211 - Introduction to Literacy
Schuetze-Pizarro, Pamela
PSY 417 - The Atypical Infant
Schunk, Aurora
CEL 301 - Community Perspectives and Experiences
Shandomo, Hibajene
EDU 316 - Teaching Elementary School Mathematics
Sharma, Bhakti
IDE 351 - Interior Design IV
Silverman, Deborah
COM 301 - Principles of Public Relations
COM 308 - Public Relations Writing
COM 418 - Campaigns in Public Relations & Advertising
COM 650 - Public Relations Management
Snodgrass, Peter
PSC 313 - Civic Engagement
Till, Lori
HTR 380 - Advanced Training in Hospitality
Truesdell, Kim
EDU 211 - Introduction to Literacy
Vince Garland, Krista
EXE 365 - Evaluation and Assessment in Special Education
EXE 367 - Curriculum for Children with Mild Disabilities
Weber, Sherri
EDU 211 - Introduction to Literacy
Welborn, Gary
SOC 486 - Practicum in Applied Sociology
SOC 490 - Internship
Wiedemer, Noelle
HIS 480 - Digital Museum Collections
MST 480 - Digital Museum Collections
MST 621 - Museum Registration Methods
MST 623 - Digital Museum Collections
MST 625 - Exhibit Design and Interpretation
Wojtaszczyk, Dennis
ENG 311 -Methods in Teaching Language
Woods, Lori Ann
CWP 102 - Argumentation & Research
Yudess, Jo
BUS 305 - Workforce Diversity in the 21st Century
BUS 369 - Organizational Change and Development
CRS 201 - Foundations of Leadership
CRS 302 - Creative Approaches to Problem Solving
CRS 303 - Creative Leadership through Effective Facilitation
CRS 304 - Developing Creative Problem Solving Facilitation Skill
Faculty Community-Engaged Learning Training
A video series that faculty can view on their own
Introductory CEL Workshops (Traditionally held in January or May)
Buffalo State College Applied Learning training
A training that the Buffalo State CCE designs specifically for your department
Prior training that faculty have had at other institutions