We're a Voter Friendly Campus
Buffalo State is a Voter Friendly Campus, designated from March 2021-December 2022. 
The goal of the Voter Friendly Campus program is to help institutions develop a strategy to engage students and set clear goals so a path can be created in advance of upcoming elections. These activities can be institutionalized for years to come, keeping students engaged as they enter, and move through their time at school.
ALL IN Campus Democracy Challenge Recognizes Buffalo State
Buffalo State College has earned the Highly Established Action Plan Seal of recognition from the ALL IN Campus Democracy Challenge. ALL IN has developed this seal of recognition for higher education institutions with strong action plans to increase nonpartisan democratic engagement by promoting civic learning, political engagement, and college student voter participation. See the list of 2022 Recognized Campuses here.
Creating Better Citizens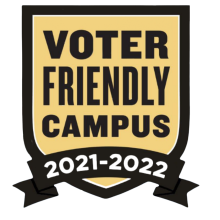 Higher education's focus on civic engagement not only helps students to better understand their impact on those around them, but it also creates better students. Encouraging and assisting Buffalo State students to vote will establish participatory habits that will last well beyond their collegiate experience. Incorporating democratic engagement into campus life creates structure and stability for students as they explore what their political beliefs are and how they would like to engage in the democratic process.
History
The Voter Friendly Campus designation program was started through the partnership of Campus Vote Project and NASPA (National Association of Student Personnel Administrators) in 2016. The Higher Education Act of 1965 requires institutions to distribute voter registration forms to their students with vague instructions and guidance. The Campus Vote Project and Young Invincibles have created a more measurable and manageable set of guidelines for schools to follow to create a more voter-friendly campus. 
Walk to the Polls
This WKBW piece on college voters features pictures of our 2022 "Walk to the Polls" initiative as well as interviews with Buffalo State students and our Civic and Community Engagement Director, Laura Hill Rao.
View Video