Dear Bengals,
Last weekend our region experienced a historic winter event rivaling the Blizzard of '77. The 2022 blizzard had significant, lasting, and devastating impacts across the entirety of Western New York. Many areas and individuals are still dealing with the aftermath and recovery from this historic storm. Please remember, Bengals, we are strong and resilient! I am proud of our entire community and want to extend my well wishes and thanks to each and every one of you.
Residence Life will continue to have staff on-call and available at the numbers posted in your buildings. Milligan's Food Pantry is committed to supporting the health and well-being of our students. Prepackaged bags are available to residential students in need living on campus this week. Students can place an order online at https://deanofstudents.buffalostate.edu/interested-registering-milligans-services.
Thank you to our entire community for your support and patience during the recovery efforts after the height of the blizzard was over. Our campus saw significant snowfall, drifts, and other impacts – as did our entire region – and our wonderful and amazing crews, along with University Police, are working tirelessly to ensure our campus is safe and accessible to return to normal operations at the beginning of the new year. They are truly the unsung heroes, and I am so appreciative and grateful for their dedication. Please join me in expressing an enormous Bengal thanks to all members of our essential staff for their hard work and commitment to Buffalo State!
Buffalo State has been serving as an operation center for the Emergency Transportation Operations of the New York State Department of Transportation (NYS DOT) and the National Guard, who are helping with storm cleanup in the City of Buffalo. Additional resources have also been provided by Buffalo State to Erie County and the City of Buffalo during the city's recovery efforts.
Buffalo State has generously received assistance from SUNY Fredonia, SUNY Brockport, SUNY ESF, NYS DOT Emergency Transportation Operations, Chemung County, American Paving, and the Buffalo Psychiatric Center in our storm recovery on campus. We have also kindly been offered assistance from SUNY Albany, SUNY Oswego, and others. Additionally, SUNY Emergency Management, New York State Emergency Management, and Erie County Emergency Management have also aided our campus this week. On behalf of our entire Buffalo State community, I would like to extend a heartful thank you to all of those listed above, and others we may have missed, for supporting our campus during this time! It is truly a wonderful show of support and community across our entire state.
I would like to remind our community of Western New York 2-1-1 Resources available during the Buffalo Blizzard storm cleanup.
911 - life threatening emergencies, including life threatening medical emergencies
716-858-SNOW - Erie County SNOW line is for requests for non-emergency medical assistance, including transportation to dialysis or cancer treatments, and delivery of critical, life-sustaining prescription medications like insulin. This line cannot provide medical advice. Please do not use this line to report unplowed streets, abandoned vehicles, or power outages.
211 - 24/7/365 connection to community resources across WNY - non-emergency resources for storm recovery and connection to basic needs and human service agencies
311 - City of Buffalo Municipal Helpline - up to date info on city response to the Blizzard, can also be used to report unplowed streets, answered 8:30am-6:00pm during the storm recovery, normal hours M-F, 8:30am-4:30pm.
988 - National Suicide Prevention Lifeline - mental health and crisis support available 24/7 nationwide
Buffalo State anticipates a return to normal operations on Tuesday, January 3. January Term (J-Term), a standalone term that is separate from both the fall and spring semesters, begins on Wednesday, January 4.
Have a safe, healthy, and happy new year!
Katherine Conway-Turner
President
Buffalo State College
Emergency Response
The 211 Buffalo Blizzard 2022 Resources page includes emergency numbers, city service updates, and information about food access, transportation, and grief counseling.
The American Red Cross shares advice on how to begin preparing for thawing frozen pipes and flooding from melted snow.
Buffalo ReUse is helping those who are in need of emergency plumbing repairs or essential workers who are buried in snow—they are prioritizing locations on the East Side of Buffalo.
FeedMore WNY has a pantry locator. Although all sites should be operational by December 29, 2022, please make sure to call ahead before heading to a site.
Mutual Aid Disaster Relief has organized a DIY Cleanup page to assist community members in keeping their property safe from further damage.
True Bethel Baptist Church is running an East Side senior snow removal assistance. Call 716-261-9880 for help.
Towed Vehicles can be found on the Buffalo and Erie County towed vehicle websites.
The Office of Refugee Resettlement has an Emergency Preparedness Booklet for refugees.
West Side Community Services Provisions 139 Pantry (at 139 Vermont, 14213) is open normal hours (as of Wednesday, December 28, 2022): Wednesday 12:00-3:00PM and Thursday 5:00-7:00PM. They serve folks in zip codes 14213, 14209, 14201, and 14222, but they can serve one-time emergency food to anybody. They have canned goods, cereal, frozen venison, and baby diapers/wipes.
To recommend a resource for addition to this list, please send the information to our email address.
The Buffalo Mutual Aid Network seeks volunteers and donations. Volunteers can sign up online. As of December 27, 2022 all donations made will go toward blizzard community response, including grocery delivery and Snow Brigade support. Donations can be made online.
The Community Resilience Fund was organized by the United Way to respond to the community needs revealed by the Blizzard of 22. Donations to the fund are used to provide support and build lasting financial security for families in our region.
Connect Life is in urgent need of donations of blood and plasma due to the cancellation of blood drive events. If you are willing and able to donate, please look on their website for donor centers and mobile drives.
The Thurman Thomas Family Foundation is raising funds to assist our community in ways that are most needed in the aftermath of the 2022 Blizzard. Donations can be made online.
Vive Shelter has a wishlist of supplies that can be purchased or donated. They have a great need for new or gently used jackets, sweaters, and other warm clothes, as they depleted their supply when they had no heat during the Christmas Eve blizzard.
The Buffalo News published on January 8, 2023 the ANCHOR analysis of the blizzard response and some ideas for moving forward in an article titled, Another Voice: We must work together for equity and efficiency in times of crisis.
211 WNY, Erie/Niagara COAD, and ANCHOR are working together to compile a comprehensive Buffalo Blizzard 2022 Resource & Recovery guide. This asset mapping will help connect those in need to help and act to reestablish the Erie/Niagara COAD directory. Please indicate what services your organization can offer to the recovery efforts that are outside of regular service offering. 
To recommend a resource for addition to this list, please send the information to our email address.
Dear Bengals,
As we learn more about the tragic story of Tyre Nichols, the young Black man who died following an encounter with police in Memphis, Tennessee, I understand that many of you are angry, confused, and overcome with sadness.
Please know that I, too, feel all of these emotions.
I thought that our country had reached a reckoning after George Floyd's death at the hands of police in May 2020.
Yet, here we are, less than three years later, reeling from another shocking death. It stretches all understanding that such gross injustice and brutality continues. It's clear that entrenched racism permeates all parts of the country. Violent acts such as these reveal the dangers of such misguided beliefs.
As educators, we know the vital role higher education plays in dispelling racism and advancing positive reform. At Buffalo State, in particular, diversity, equity, and inclusion lie at the heart of our mission. We proudly embrace individuals of all backgrounds and celebrate our differences daily. We strive to demonstrate love for each other across campus and in our work with the community.
However, when we witness the horrific treatment Mr. Nichols, Mr. Floyd, and countless others, it's clear that much more education and reform is needed.
I know our Police Chief Stephen Mayoral is equally disturbed by the actions of the officers in Memphis. Chief Mayoral stands with the International Association of Chiefs of Police who released a statement noting that the individuals involved in Mr. Nichols's death "have betrayed their oath of office, disgraced the law enforcement profession, and brought shame on the officers across the nation who work selflessly each day to protect their communities."
Please remember that Buffalo State remains a place where we embrace diversity, where we have zero tolerance for any type of discrimination, where we lift up our students, faculty members, and staff who identify as underrepresented minorities. I hold onto that knowledge during difficult times such as these, and I hope it brings you some measure of comfort as well.
Katherine Conway-Turner
President
Buffalo State College
Emergency Resources
To recommend a resource for addition to this list, please send the information to our email address.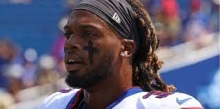 On Monday, January 2, 2023, the Buffalo Bills played the Cincinnati Bengals at Paycor Stadium in Cincinnati, Ohio,  when safety Damar Hamlin (#3) was tackled and suffered life-threatening injuries, leaving him in critical conditions this week. Days later, he woke up and his breathing tube was removed. He was able to tweet, saying "Putting love into the world comes back 3xs as much… thankful for everyone who has reached out and prayed. This will make me stronger on the road to recovery, keep praying for me!"
Encourage
Make Damar Smile - Let's continue to send Damar and his family our continued thoughts and prayers as he heals and recovers. Channel 7 just announced that a local company, Smile Mail Inc., has created a platform for us to "Make Damar Hamlin Smile". You can send cards, post encouragement, and drop off gifts at:
Smile Mail Inc., 3221 Southwestern Blvd, PMB 325, Orchard Park, N.Y.,14127
You can also drop mail off at the following locations:
Totally Buffalo Store at 3459 Amelia Drive, Orchard Park, N.Y.
Totally Buffalo Store at 3328 Sheridan Drive, Buffalo, N.Y.
Smile Mail Inc. at 4545 Transit Road, Williamsville, N.Y. (only on Jan. 10, and Jan 12 from 2:30 p.m. to 5 p.m.)
Smile Mail Inc. would also like well-wishers to post their cards on either Facebook or Twitter with the hashtag #SmileMailForDamarHamlin.
Click HERE For More Details about the Make Damar Smile Campaign
Give
Consider donating to The Chasing M's Foundation Charitable Fund. It is Damar Hamlin's nonprofit organization that he created in partnership with The Giving Back Fund (GBF) which is a leading national non-profit organization that supports and simplifies charitable giving from professional athletes like Damar. It is his heart's desire is to pay it forward and allocate the outpouring of donations toward projects that would give back to the community.
Support
Damar wants to give back some of the love to the University of Cincinnati Trauma Center and is selling, "Did we win?" apparel. That was the phrase he spoke when he woke up. Get your "Did We Win" apparel today at the Did We Win Shop.
Get Equipped
Damar received CPR and First Aid and AED right on the field. This is a valuable skill to have in an emergency situation. Get certificated or renew your certification today.
Did you know that bystander CPR can increase the chance of survival from cardiac arrest? Life is precious. Learn about CPR
Buffalo State students and faculty/staff can complete the training right here on campus through the Health Promotions Workshops with Weigel Health Center.

Open to the community when space is available

Red Cross Certification made affordable for all, convenient and simple. Register now and get certified. Affordable CPR/AED online training is available. Get certified and help save a life.
To recommend a resource for addition to this list, please send the information to our email address.
20-year old shooting survivor Zaire Goodman and mother Zeneta Everhart are requesting books from linked list, which they will distribute to community centers, schools and local organizations in an effort to help children learn about race, racism and Black history. 
African Heritage Food Co-op is partnering with other organizations to help deliver to families that are hurting and left without a grocery store. You can inbox their facebook page for volunteer information.
Black Love Resists in the Rust will provide mental health and food support. 
Buffalo Community Fridges at 257 East Ferry Street will accept fresh and non-perishable food donations.
Colored Girls Bike Too is delivering food to homes or neighborhood pop-ups. Buffalo Creek Academy will pick up groceries and deliver to the community around the Jefferson Ave Tops. Call (716) 217-2661.
Every Bottom Covered, a Black-led diaper bank, is collecting diapers. Drop off diapers at the CCE (SOUT 120) or 877 E. Delavan Avenue.
FeedMore WNY is accepting food donations (cash donations can be made online). Volunteers are also needed at emergency food distribution events in Buffalo.
Fruit Belt Community Land Trust is offering a food gift card or Instacart services to assist. To assist the victims and families along with the FBCLT, please donate.
The Resource Center of WNY is in desperate need of toiletries, baby products and basic household items. Donate through their Amazon Wish List or deliver in person to 347 E Ferry St, Buffalo, NY 14208.
Partnership for the Public Good: Best Self, Crisis Services, faith leaders, and a number of other organizations are offering free mental health and trauma counseling at the Johnnie B. Wiley Center (1100 Jefferson Avenue). We need more volunteers to help with greeting and door-to-door outreach in the community. 
Rooted In Love Inc. is accepting donations for its community fridge.
The United Way has partnered with other organizations to create a Buffalo Together Community Response Fund to address immediate needs in the Buffalo community, long-term community rebuilding, and systemic issues that have marginalized communities of color. They have also created the Buffalo 5/14 Survivors Fund to provide direct financial assistance to the survivors of the deceased and those directly affected by this tragedy.
VOICE Buffalo is providing short- and long-term help. For information about their response to the TOPS shooting, go to their facebook page: https://www.facebook.com/voicebuffalo.
West Side Community Services is accepting relief donations including food items, toiletries, and other grocery essentials to build Provisions Packages Grocery donations can be dropped off at WSCS, 161 Vermont St., Buffalo, NY 14213 (call 716-884-6616 for drop-off times), or click here to make monetary donations for purchasing Provisions Packages items.
The National Compassion Fund was selected by TOPS to provide money directly to the survivors/families—donations to their Buffalo Survivors Fund can be made on their website.
Amazon wishlist of books you can purchase to help children learn about race, racism, and Black history—curated by Zaire Goodman, mass shooting survivor, and his mother, Zeneta Everhart. Read more about their education efforts here
Fellow Bengals, 
On May 14th 2022, our community suffered a horrific tragedy when a white supremacist gunned down 13 individuals, killing 10 and injuring three, at a Tops Friendly Market on Jefferson Avenue in Buffalo—an area of the city where 78 percent of the population is Black. We are outraged that this type of racially motivated domestic terrorism was unleashed in our beloved community, and we continue to send our thoughts and prayers to the victims and their families.
As we mourn and process these events, I remind all Bengals that at the heart of everything we do at Buffalo State College is our JEDI mission: justice, equity, diversity, and inclusion. We must not let hate win. I encourage all Bengals to support the community that is served by the Jefferson Avenue Tops, as their access to fresh food may be severely limited in the coming days. If you would like to help, the Civic and Community Engagement Office has compiled a list of organizations, including community fridges, that are directly supporting the neighborhood and families in need.
Lastly, I invite the campus community to come together for a vigil on Tuesday, May 17, at 4:00 p.m. in the Student Union Plaza, where we will unite as Buffalo's College, honor the victims, and support each other. Counseling Center staff members will be available to assist anyone in need.
Katherine Conway-Turner
President
Buffalo State College